Amenities
Dining Area
Full Kitchenette
Refrigerator
Microwave
Coffee Maker
Tiled Bathroom/Shower
Flat Screen Television
Free Wifi
Ethereal views of surf, sand, and sky blend with a spacious suite of rooms. Generously appointed living room with futon, twin-sized roll-away bed, bay window, ocean view, full kitchenette with 2-burner stove, refrigerator with freezer, microwave, Keurig coffee maker. Large bedroom with King bed. Ceramic tiled bathroom with shower. Flat screen smart TV with high speed Wifi, individual HVAC/fan.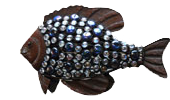 Rates
High Season: Weekly $3,073, Nightly $439
Quiet Season: Weekly $2,373, Nightly $339
Rates are based on double occupancy and do not include 6.625% NJ sales tax or the additional 8% NJ room tax.