Amenities
Private Balcony
Kitchenette
Refrigerator
Microwave
Coffee Maker
Oversized Walk-in Shower
Flat Screen Television
A/C
Free Wifi
Private balcony with superb ocean views. Antique Queen bed. Private balcony. Kitchenette, refrigerator, microwave, coffee maker. Oversized walk-in shower. Flat screen smart TV with high speed Wifi, A/C, ceiling fan. Combine with Driftwood to make a 2-bed, 2-bath suite.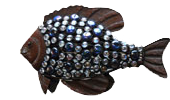 Rates
High Season: Weekly $2,213, Nightly $316
Quiet Season: Weekly $1,728, Nightly $247
Seashell (2.3a) and Driftwood (2.3b) combined
High Season: Weekly $3,113, Nightly $445
Quiet Season: Weekly $2,363, Nightly $338
Rates are based on double occupancy and do not include 6.625% NJ sales tax or the additional 7% NJ room tax.